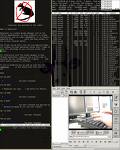 Phones have moved up the computing stack to the point where we have enough cpu / mem under the hood to start thinking about window management and end-user choice. Currently, you buy a phone and you're locked into a usability mindset.
For many people, a phone like the apple iphone works great. They get a slick, reasonably responsive device that more or less does what they mean. For people who use ratpoison, the iphone causes hints of disgust and horror to saccade across their faces. They would prefer to have something that does a few simple things lightning fast, while allowing them to compose those actions into complex actions that fit how they want to use a phone.[1]
At the other end of the spectrum, there are people who are already tired of the interface and would like to give it a 3D look, use different transition effects, or even replace a lot of the visual metaphors with something interesting.
Time to learn more ...
[1] Imagine a small phone that just had a bash prompt.

---
---
---
---