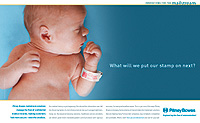 My Economist has an ad for Pitney Bowes, the bulk mail [spam] company. After being associated with the automation of mass postal mailings, I can understand why they would adopt a clean new images (see pristine cute baby to the right). Because you might think Pitney-Bowes sold baby formula or health insurance, the ad's tag reads "What will we put our stamp on next?" and the baby's wrist has a postage stamp lovingly wrapped around it.
So here's a short list of the things that come to my mind when I think of babies being stamped:
Brave New World
Nazi baby farms
Mail order kids
All cute and cuddly things, right? Granted, I certainly could have misunderstood the ad. And Pitney Bowes could actually intend to enter the baby delivery management market for the benefit of all humanity....
---
We use Pitney Bowes equipment (scanners, barcoders, printers, mail software) at work. It sucks and so do their rip off service calls. We call it "Pitney Blows" here. -- DS