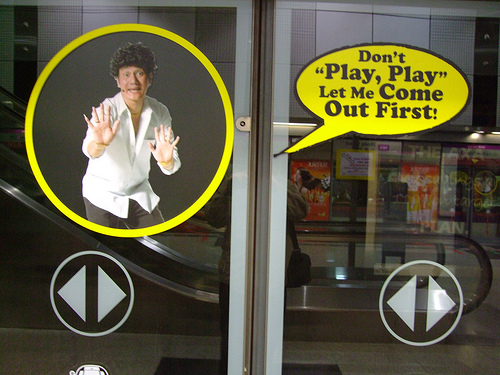 The picture comes from an MRT PSA, check out his right pinkie finger, though. See how he grew out his fingernail? In the States, I've only ever seen that on coke fiends. So, let's just say I had a new question for the day.
Happily, MRT is not unknowingly sponsoring cocaine use in SG (at least not in this instance ;). Talking with some locals, maintaining a long pinkie nail indicates that you don't do manual labor (or type for that matter) despite the wikipedia entry. This easily qualifies as the most deleterious idea I've come across in SG. Imagine a bunch of adults who view work as something to be avoided.
After a fire alarm incident at my hostel (someone smoking in their room), I was talking with a Vietnamese girl about the alarm, and she segued from talking about the current alarm to commenting on Singaporean men and how it seems that so few can do anything. When anything goes wrong, nobody knows what to do, other than escalate the problem. She was not impressed.
Granted, small sample size. Just not very encouraging....
---
---
---
---
---
---
---
---
---
---
---
---
---
---