Washington, DC - A massive network outage is currently plaguing the multinational terrorist organization, Al Qaeda. Since Tuesday the 22nd, workers have not been able to log in or even retrieve email on the Al Qaeda network. Al Qaeda's CIO, Mohammed ibn-Hussaini, blames the problem on a malfunction in the failover software that occured when routine Verizon maintenance took down one of Al Qaeda's OC-192s near Langley, Virginia. Verizon's spokesperson said that Verizon was doing everything in its power to bring the circuit back online, but there was no estimated time at which service would be restored.

The lack of network connectivity has caused many time-sensitive projects to be delayed to the point where they must be cancelled. "For example," says Allah ibn-Allah, "I'm supposed to be assassinating Gov. Gray Davis now, but I haven't gotten the email telling me where I can pick up my high-powered rifle. Even if I got one at Wal-Mart, I still don't have access to the VIP travel plans database. It's enough to make me get in my car and go drive badly on the highway."

"We were scheduled to deploy a major new offensive this week, but that schedule has been completely derailed because of this Verizon fiber cut. We were all ready to go, we'd even sent out reminder notes to the FBI and CIA, but then the main server connection goes down and now we've 40 news agencies thinking that we can't deliver our product on time. I can't tell you how damaging this is.", says ibn-Hussaini.

Al Qaeda is currently working with Microsoft and Verizon to remedy the situation, but delays are expected to last out the week.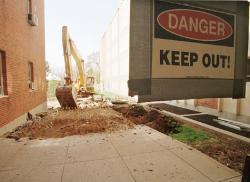 Routine Verizon maintenance caused Al Qaeda's network to crash.