WASHINGTON, D.C. -- In a letter signed by every US senator on Dec. 9th, Congress vilified the New York City teachers who aided their students in cheating on state exams. Calling the teachers "myopic and foolhardy", the senators declared the cheating "a travesty of national proportions."
Hailed as a landmark in American ethics, all the signed senators will travel to each of the offending schools to teach educators and students alike how to cheat properly. Lecture topics will include:
"Change, Gradualism and Cheating" by Senator Jesse Helms,
"Cheating your Way to the Top" by Senator Diane Feinstein,
"Moneylaundering: Cheating That Pays" by Senator Pat Roberts.
"I simply cannot believe that they [the teachers] would do such a thing. Who ever heard of a New Yorker getting caught for cheating? Everyone cheats, but getting caught? What a disgrace." said former NY senator and Ethics Committee Chairman Alfonse D'Amato.
It is hoped that the series of lectures will inculcate and reinforce the ability to cheat in all of the students. The students' confidence in cheating had fallen after their teachers ineptly disguised their attempts to cover up their students' inability to score well on standardized tests.
The series are scheduled to begin on January 3rd, 2000, at NY High School U342. At the opening ceremony President Clinton will give the keynote address, which is tentatively titled "How to Smoke Up All You Want and Not Get Busted."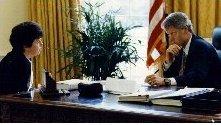 Senator Feinstein and President Clinton have decided to smoke more pot.