OKLAHOMA CITY -- President Clinton's dedication of the Oklahoma City National Memorial today was received by the cheers of schoolteachers and relieved parents. Just three years ago, President Clinton declared Oklahoma City to be a National Disaster Area, after the terrorist bombing destroyed the only local elementary school field trip destination.

"I'm really happy to see that Clinton acted so quickly, we were all really hurting, as we didn't have anything to break up that long February to June stretch." says 4th grade teacher Kay Osborne.

Not all were as pleased with the new memorial, "It's a sad day when teachers choose to show children the effects of violence instead of teaching them the wonders of ovology." said Mr. Brad Feldstamm, author of the "Day of Eggs" field trip proposal and owner of the world's largest eggshell.

Also displeased were local republicans, who saw this as an attempt to win the vital Oklahoma swing vote in the upcoming election. Republican Mayor Philo Armistead's comments on the memorial consisted of, "ratzenfratzenaarraarararararrrraargghhh!"

Despite the various controversies, it may be that the true impact of the new memorial was best recorded by the eyes of the thousands of students who thronged the dedication in front of the 9:01 Wall. Their mostly listless eyes generally stared at the wall, incognizant of the fact that they were going to be but the first in a long line of prepubescents to make this yearly pilgrimage.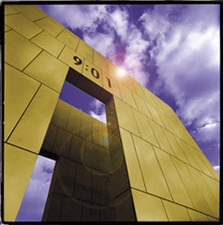 From the perspective of the hapless.